This quilt will be donated to a kid in need via the Quilts for Kids organization.  This organization provides quilt kits.  For every quilt kit that they provide, they request that you make an extra one when you return it.  Here is my extra one:
Visit AmyLouWho's Blog to check out the other quilts that have been made for the '100 Quilts for Christmas' event that is hosted by Kate from Swim Bike Quilt and Aunt Spicy.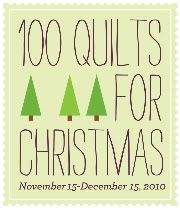 Also, check out the Flickr group with all of the quilts!  You may want to join the fun!