Over the past weeks, I have been getting ready for several upcoming blogging events:
This weekend kicks off a new quilt along with the Don't Call Me Betsy's Blog.  It will be a Sliced Coin Quilt Along.  The best part is that she has a selection of sizes that you can make!  Additionally, she did all of the calculation to integrate our stash of scraps into the fabric mix.

As I mentioned within my 2011 goals, I am going to job the 2011 Bloggers; Block-A-Palooza Quilt Along with the goal of keeping up!  I will be using the Amy Butler Soul Blossoms line that I purchased last week.  The fun starts next Monday.
Tomorrow is my Kona shopping day to pick out my colors for the Gen X Quilters Kona Your World Fat Quarter Swap.  I was originally going to cut down my Kona Coal, but I am now going to use that for my Urban Lattice Quilt.  I will now shop for some brighter colors!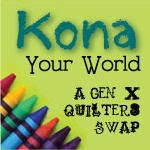 In addition to quilt alongs and swaps, I am going to join Stitched in Color's Bloggers' Pillow Party.  I have several pillow patterns to make this year; thus, this party is perfect for me to try small techniques and turn them into pillows.
Although it will be busy, it will be fun to interface with a log of quilters online working on the same or similar projects.